News from Séka Hills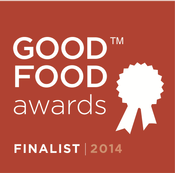 Our Premium Arbequina Extra Virgin Olive Oil was named a 2014 Good Food Awards finalist. The Good Food Awards celebrate the kind of food we all want to eat: tasty, authentic and responsibly produced. They grant awards to outstanding American food producers and the farmers who provide their ingredients. View the full list of 2014 finalists or learn more about Good Food Awards.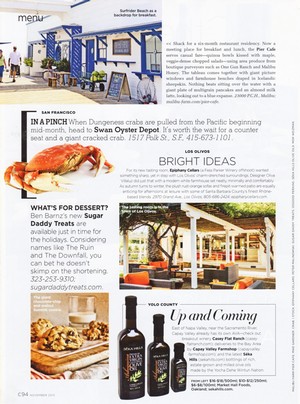 Our Premium Arbequina Extra Virgin Olive Oil was featured in C Magazine. Three sizes of our Premium Arbequina are pictured: 500 ml, 250 ml and 100 ml.
Pick up the November edition of C Magazine, out on newstands now.
Séka Hills Premium Arbequina can be purchased in our online store, or at one of several locations.


Roots to Wine, a nonprofit marketing and educational organization with 10 member wineries in northwest Yolo and northeast Solano counties, is dedicated to promoting the region's locally grown grapes and terroir as well as encouraging tourists to experience the area's rich agricultural heritage. The organization held its first Fresh Press Weekend passport event Oct. 12-13, with eight member wineries holding open houses for visitors to taste wines, observe winemaking operations and sample fresh-pressed juice and wine, including Séka Hills.

Read the article.

Elaine Corn, freelance food journalist, frequent contributor Capital Public Radio and Sacramento Bee, posted a feature entitled "Consumers Still in the Dark: 6 Tips for Buying Better Olive Oil." The feature includes our Premium Arbequina Extra Virgin Olive Oil label as an example of what an olive oil label should include.


Séka Hills Premium Arbequina was mentioned in SF Chronicle's Extra Virgin Olive Oil Buying Guide. The Guide offers guidelines to consider when buying extra virgin oil, along with how to best use it.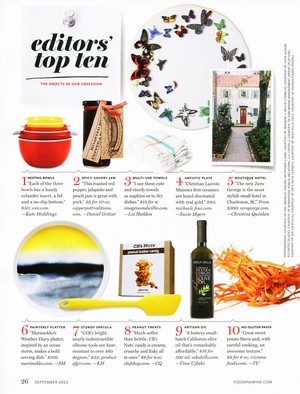 Our Premium Arbequina Olive Oil is ranked #9 in Food & Wine magazine Editors' Top Ten list - "A buttery small-batch California olive oil that's remarkably affordable."

Pick up the September 2013 issue of Food & Wine, out on newsstands now. Séka Hills is also featured on Food & Wine's website.

After you build a profitable casino, luxurious hotel and championship golf course, create an award-winning wine label, manage more than 11,000 acres of farm and ranch land — including 300 head of cattle — and on top of it all, buy back your original tribal lands, what on earth do you do for an encore?

If you're the very enterprising, 62-member Yocha Dehe Wintun Nation of California's Capay Valley, you make 100 percent premium extra-virgin olive oil, marketed under the tribe's distinguished Séka Hills label.

"The American consumer is really short-changed when it comes to fresh, virgin olive oil," says Tribal Chairman Marshall McKay, reflecting on recent studies challenging the purity of many olive oils in the U.S. "So we decided one of our main quests would be to provide that for consumers."

In 2008, after much research and consulting with the University of California Davis olive center, the Yocha Dehe tribe planted its first olive trees on 80 acres of poor, dry soil — the perfect conditions to grow Arbequina olives, a Spanish variety that prospers in Mediterranean-like climates. And in fall of 2011, they reaped the fruits of their labor.

"We completely sold out of our first year's production," says Jim Etters, director of land management for the tribe, who says their olive oil has been described as smooth and buttery, with a hint of grass and black pepper. "It was a strong start and started us on the right foot, helping us develop the market and learn the business."

Keep reading the full article by Indian Country Today.

Learn more about our story.

Indian Country Today featured a great article about Séka Hills and our journey from the rolling hills of Northern California's Capay Valley to the Fancy Food Show in New York City. Read it online.

Séka Hills will be at the Summer Fancy Food Show in New York June 30 - July 2. We'll be tasting our Premium Arbequina Extra Virgin Olive Oil. Stop by if you're in New York! (California Olive Oil Council Booth #4174).