May 14, 2013 |
Séka Hills Extra Virgin Olive Oil Now Available through ItalFoods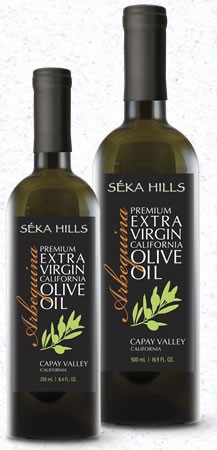 The Yocha Dehe Wintun Nation is proud to announce that ItalFoods has added Séka Hills Premium Arbequina Extra Virgin Olive to its portfolio of world-class extra virgin olive oils.

Séka Hills is the line of agriculture products from the Yocha Dehe Wintun Nation. The Tribe named these products Séka Hills after the blue hills where they farm their ancestral lands in Northern California's Capay Valley. Dedicated stewards of the land, the Tribe sustainably manages more than 11,000 acres on which they farm a dozen crops, partner with organic growers, and graze a growing herd of 200 cattle.

Taking advantage of the Capay Valley's Mediterranean climate, the Tribe has embraced the ancient tradition of growing olives while using the most modern methods to produce its Séka Hills olive oil. The freshly harvested estate Arbequina olives are delivered quickly and milled within hours at their onsite, state-of-the-art mill. This is the second olive harvest from 82 acres of olives planted in the super high density system and the first from the custom-designed Alfa Laval mill. Several additional varieties, planted in 2011, will expand the Séka Hills line of estate, single varietal, extra virgin olive oil in coming years.

For over thirty years, ItalFoods has been known as a discriminating source of specialty foods and for its dedication to quality and authenticity. The addition of Séka Hills Extra Virgin Olive Oil to the ItalFoods line signals a recognition that this California extra virgin olive oil meets the discerning criteria of buyers, retailers and consumers.

Certified as extra virgin by the California Olive Oil Council, Séka Hills is stored in temperature controlled conditions and bottled to order. Consumers can find Séka Hills at specialty food purveyors, grocery stores, many e-commerce sites, and at ww.sekahills.com. Average retail prices range from $16 – $18/500ml.

Séka Hills will be presenting at the Summer Fancy Food Show June 30 - July 2 at the California Olive Oil Council Booth (Booth number 4174).

Sales inquiries: Lindsey Mezger, 530.681.7420, sekahills@yochadehe-nsn.gov
Wholesale inquiries: ItalFoods, 650.877.0724, info@italfoodsinc.com
Media inquiries: Roberta Klugman, 510.655.7790, rklugman@robertaklugman.com

###

Yocha Dehe Wintun Nation is an independent, self-governed nation that supports our people and the Capay Valley, California, community by strengthening our culture, stewarding our land and creating economic independence for future generations. Learn more at www.yochadehe.org.

Comments
Commenting has been turned off.