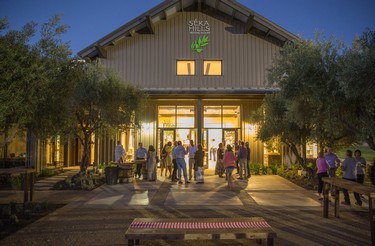 Séka Hills Olive Mill and Tasting Room
The Séka Hills Tasting Room offers unique opportunities to experience our olive oil, wine and other Capay Valley products. The Tasting Room features regional goods, gifts and specialty foods to eat on the patio or enjoy at home.
Open Wednesday through Sunday from 11am to 6pm.
Menu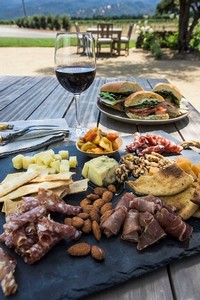 Fresh Seasonal Salads
OLIVE MILL SIGNATURE PASTA SALAD $5
Community Grains Fusilli Pasta, Seasonal Capay Veggies,
Creamy Italian Vinaigrette, Crumbled Chèvre Goat Cheese

TASTING ROOM ORGANIC GREEN SALAD $5
Fresh Local Organic Mixed Greens, Sliced Cucumbers,
Tomatoes and Pickled Veggies, Séka Hills Herbed Croutons,
Finished with Séka Hills Vinaigrette

Artisan Sandwiches
THE ITALIAN BIRD $10
Slowly Roasted Turkey Sliced Cold, Topped with Pickled Giardiniera, Italian Hot Peppers, Greens & Sliced Tomatoes,
Provolone, Olive Mill's Signature Bruschetta Mayo,
French Hoagie Roll

BYO TURKEY SANDWICH $10
Build Your Own Turkey Sandwich, Choice of Breads,
Cheese, Veggies & Condiments

ITALIANO $12
Local Hand Sliced Prosciutto, Finocchiona, Mild Soppresata Salami, & Coppa, Aged Provolone, Italian Hot Peppers & Sweet Pickles, Olive Tapenade, Olive Mill's Signature Bruschetta Mayo on French Style Roll

NISQUALLY SALMON SANDWICH $12
Smoked King Pacific Salmon, Herb Infused Cream Cheese,
Fresh Sliced Tomatoes and Organic Cucumbers, Finished with
a Lemon Pesto Aioli on Fresh Ciabatta

CAPAY VALLEY VEGETARIAN SANDWICH $10
Charred Peppers, Pickled Italian Veggies, Sliced Cucumber
& Tomato, Herb Infused Cream Cheese, Spinach & Artichoke Hummus, Mixed Greens on Fresh Ciabatta

HALF SANDWICH OF YOUR CHOICE WITH
SIGNATURE PASTA OR ORGANIC GREEN SALAD $13
Seasonal Specials

CAPAY VALLEY ROASTED VEGGIE SANDWICH $10
Roasted Eggplant, Sliced Portabella Mushroom, Italian Peppers, Herb Infused Cream Cheese, Fresh Greens and Sliced Tomatoes. Finished with Chevre Goat Cheese on Fresh Ciabatta
CHICAGO STYLE BEEF BRISKET $13
Yocha Dehe Beef Brisket, Slowly Smoked & Sliced Cold, Topped with Italian Giardiniera, Hot Peppers & Sweet Pickle Medley, Local Greens & Tomatoes. Finished with a Boursin Cheese Infused Mayo on a Sweet French Hoagie

Wood Board Platter $18
CHARCUTERIE
A selection of local artisanal cheeses, salamis, dried fruits, crackers featuring Seka Hills Wildflower Honey and Estate Grown Almonds and Walnuts.

Fresh Brewed Coffee $3.00
Séka Hills Olive Mill and Tasting Room
19326 County Road 78
Brooks, CA 95606
t) 530.796.2810